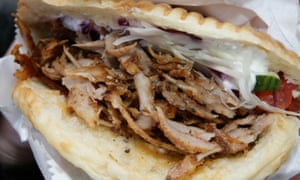 December 1, 2017
–
It's the news that none of Europe's late-night revellers want to hear: the end of the doner kebab could be nigh.
A move by the European parliament to ban the phosphates necessary to keep seasoned kebab meat moist and flavoursome, even after the most arduous periods on a spit, is said to pose a direct threat to the future of the high street delicacy.
An estimated 1.3m doner kebabs are sold every day in the UK from more than 20,000 outlets. The Labour leader, Jeremy Corbyn, was even guest of honour last year at the British kebab awards. Across the whole of Europe, some 200,000 people work in the industry.
In Germany, where the doner kebab is by far and away the most popular fast food, consternation at the development has prompted some apocalyptic visions.
"If the European parliament gets its way, this would be the death sentence for the entire doner kebab industry in the European Union," said Kenan Koyuncu of the German association of doner kebab producers.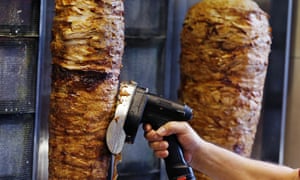 Renate Sommer, a member of the German chancellor, Angela Merkel's Christian Democrat party in the European parliament, wrote on Facebook that "a ban of the phosphate addition would be the end of doner production and would lead to the loss of thousands of jobs".
A scientific review in 2012 suggested a possible link between phosphates, when used as food additives, and heart disease, although the evidence remains inconclusive.
EU rules normally prohibit the use of phosphate additives in meat preparation, where they are used to protect flavour and retain water, but there are exceptions, and the law is currently silent on their use in frozen kebab meat.
The European parliament's health committee this week voted down a proposal from the European commission that would have allowed the use of phosphoric acid, phosphates and polyphosphates in kebab meat made of mutton, lamb, veal, beef or poultry.
The full European parliament is now due to vote on the issue when it sits in Strasbourg in two weeks time. If it is rejected by the parliament, that would send the proposal back to the commission, leaving the future of the doner in limbo.
The European parliament's Socialist and Democrats (S&D) and Greens/European Free Alliance groups have drafted a resolution to veto a proposal to authorise the use of phosphates in "frozen vertical spit meat" because they argue that there is no proven technological need.
But Baris Donmez, the owner of a 24-hour kebab shop in Berlin's Mitte district told the Associated Press that he believed the doner's popularity would shield it from a ban.
"Germans love doner," he said. "Nobody's going to take away it away from them."
**************************************************************************************
They tried this with kokoreç a few years ago too and either they gave up trying or people all over the EU are simply ignoring them.  See my very early: "Chitterlings…and mageiritsa" and  all my Anthony Bourdain  and France posts.