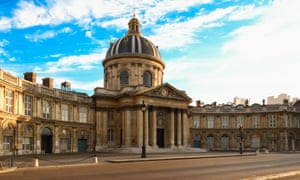 Forget Brexit. Europe is facing an even more fundamental crisis: one of its major languages is en péril mortel ("in mortal danger"). If you take the French Academy at its word, within a few years 70 million EU citizens will be communicating using only grunts – or grognements, as they will no longer be able to say.
The cause? Political correctness gone mad, as usual. The academy, which is charged with the Canute-like task of preventing the French language from changing very much, is furious at the use of "inclusive language", which attempts to get around the assumption of male superiority baked into French grammar. Because French, like many other languages, requires nouns referring to people to have masculine or feminine endings, if you're describing a mixed-gender group, you're forced to pick one. By convention, it's the masculine. So a group of, say, six MPs – one man and five women – would be called députés, not députées. One way to deal with this is to have an alternative form that covers everyone: député-e-s.
That's what the academy is railing against. But the idea that it places French in "mortal danger", as its statement argues? Have these people gone complètement fou? It's an optional shorthand, used only in print. It may be relevant at this point to raise the fact that, of the 34 academicians, 30 are male.
Apart from the gender imbalance, there's the academy's mission according to its 17th-century statutes: to make the language "pure". Talk about setting yourself up to fail – or at least to get angry about things that you can't change. Languages are always impure: they borrow, blend and innovate, without any loss of expressive power.
One radical solution, of course, is for members of the academy to become reformers rather than reactionaries, and eliminate masculine and feminine forms altogether. Plenty of languages, including English, Turkish or Thai, get along perfectly well without them. And the French have done radical things with language before, such as scrapping the names of days of the week during the revolution. People of France, you have nothing to lose but your gender markings!
–
Comment: nikobakos@gmail.com
–